How can we serve you
All our services in a row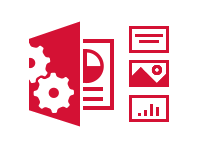 PowerPoint presentation system:
A long-term investment
A PowerPoint presentation is so much more than a simple file. It is about the right combination of images and words. You want a strong story, a clear structure, as well as an excellent and convincing presentation. This way you present your company or story in the best possible way. Roops will find that golden formula, with you. We search for what your organisation needs exactly. Then we develop a template that not only fits those exact needs, but is also very easy to use. And, of course, beautifully adapted to your corporate identity and appearance. This gives you a template for PowerPoint presentations that will continue to amaze – and convince – your audience.
And don't worry, we support you from start to finish. Roops also provides sufficient Training and Coaching, to familiarise everyone in your organisation with our custom template. This way, everyone becomes an expert in giving presentations. That makes a Roops PowerPoint presentation an investment for the future. You need a PowerPoint presentation in the short term? Or an expert eye? That is not a problem either. Roops provides Professional Support if you need it. Check this page for more information.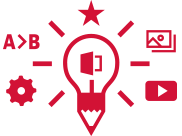 Presentation support:
We are happy to help you with your PowerPoint and your presentation
Roops is a presentation specialist. This means that we can help you from the beginning, but that we can also help you during your own making of a PowerPoint presentation. We are happy to provide you with expert advice. Sometimes, having an extra pair of eyes is so nice: sometimes, you are not sure whether you get the most out of your presentation.
We can improve your PowerPoint presentation to the smallest detail, including everything that is needed for a strong story, and that in addition looks really tight. We look at design, visuals and content. We strengthen your visuals where necessary, or change the structure so that you have a clearer story. Everything is possible. Everything in the service of your story. We unburden you and give you extra support, so that you can give the presentation of your life, full of confidence.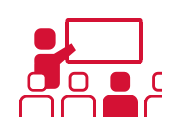 Training & Coaching:
Get confident with PowerPoint or presenting
Microsoft PowerPoint is one of the most beautiful programs that Microsoft Office has to offer. We are convinced of that. It is often underestimated how effective PowerPoint can be in spreading the story of an organisation.
As experts, we would like to show you how to use PowerPoint efficiently for your organisation. For example, do you want to learn how to convert text into clear visuals ? Or do you want to discover what PowerPoint has to offer as a program? Roops organizes various training courses, whether you are a beginner or an advanced user of PowerPoint. We are happy to teach you all the tips & tricks of the trade. This way you can become an expert in designing PowerPoint presentations. Emergency assistance:
Roops will help you out immediately
You have an important presentation tomorrow, but you are not yet satisfied with the content or design. For example, your animations are not working properly. Or you are afraid that your story is not clear enough. You can, of course, still step on stage. But if you have doubts about your PowerPoint presentation, chances are that your story will not reach your audience. And that would be a real shame.
Roops is happy to help you solve all your PowerPoint problems. You have an emergency and you need help right away? We are immediately available to make your PowerPoint presentation a success story. Then you can approach your audience with a clean presentation and with confidence the next day. You just need to call and we can get started together.
Call 010-2141734 / 06-50491908 for direct contact
Roops has supported NPM Capital in developing the starting template for all our presentations. Thanks to their years of experience, Roops was able to think along with our needs. We used to work with a very simple template, so presentations (which are often made by different people) were not clear and consistent. With a lot of creativity and a real feeling for how to transfer information, Roops has built us a versatile foundation. We saved a lot of time and effort thanks to them. This allows us to transfer information more efficiently, and make faster and better team decisions. We now use the layout for pitchbooks, internal updates, and investment proposals.
Jorrit Nagelsmit
Analist / Associate
NPM Capital
I got to know Wouter Spoor and his presentation agency Roops as part of a training course at Vebego. He was able to quickly familiarise the entire group with the wonderful world of PowerPoint and templates. I have never learned so much about presentations in one day… Then I engaged Roops several times to fix other PowerPoints. Wouter is good at asking questions: that is why he knows exactly what you need to get started. And that worked out great for me!
Annemieke de Bruyne
Marketing & Communication
Vebego Care
For a last-minute PowerPoint presentation, Wouter is the right person to call. Without panicking, Wouter knows how to make a professional PowerPoint presentation with little information. He converts your wishes into clear presentation slides. This way you will have a suitable and immediately usable PowerPoint presentation needed for an important presentation job, within a short time.
Jan Verbeek
Assistent Tech. Manager
KNVB
I recently appealed to the professional services of Roops for the first time. Wouter Spoor helped me enormously with making a rather difficult presentation. Wouter is really good at determining a good storyline. With his approach, he knows how to easily determine a storyline. In doing so, he takes into account all the details that matter. Wouter knows exactly what the audience wants to hear, and through his method, he is able to filter these details out of the conversation and give them their place in the story. At Roops you don't just stop by for a nice presentation. Wouter's service includes the entire package, including coaching the presenter. All in all, a very good first experience that is certainly worth repeating.
Niels Eegdeman
General Manager
Swagelok
Want to make use of our services?
We would be happy to work with you. Call us: +31 (0)10-2141734, or send us a message using the form below. We will contact you as soon as possible.